THE NEW THIRD EDITION OF BERNIE'S BOOK IS NOW OUT!
* Learn How To Read A Whiskey Label
* Read the Evolution Of Bourbon From Un-aged Corn Whiskey, To Aged Corn Whiskey, to Wheat Whiskey,
To Bottled In Bond, To the Small Batch & Single Barrel Whiskeys Of Today
* See The Historic Bourbon Time Line
* Read How Words On Labels Are Like Badges A Whiskey Earns
* Where To Go Drink Whiskey When You Visit The Bourbon Trail In Kentucky, & Across The USA
* 50 additional pages from the 2nd addition
Praise for Bernie Lubbers and Bourbon Whiskey: Our Native Spirit 3rd edition
"When I first met Bernie several years ago, we were enjoying some of Kentucky's finest.  It was an interesting time for me because this was the first time I ever had a chance to talk to a brand ambassador.  As I kept asking questions about him, he kept flipping the subject to all sorts of production questions.  At first, I thought, "well this shouldn't take me long to bore him to tears with the intricacies of distilling."  Was I ever wrong, before I realized it, the night was passing by faster than my ice could melt.   What I began to realize is that I was talking to someone with a similar passion for not only making bourbon, but understanding it down to the grains.  Many cubes of ice have been melted in my bourbon since then, but Bernie's passion for learning continues.
Over the years, I have seen and listened to Bernie in his seminars teaching what he knows in a style that works from the board room to the breakroom.   He defines what it means to be a true ambassador for bourbon.  To my friend the Whiskey Professor, keep teaching the good word of bourbon. " — Greg Davis, Master Distiller, Maker's Mark Distillery
"Bernie has such great enthusiasm when it comes to one of America's greatest spirits.  He is continuously learning and teaching others just how special the industry and products are.  With Bernie's selflessness along with experience and knowledge working with him is a great pleasure of mine.  He has found creative ways through writing, music, and story telling that surely make him a true bourbon historian that enjoys sharing the history and teaching others.   I am honored to work alongside Bernie today, tomorrow, and look forward to many years to come." — Craig Beam, Master Distiller, Heaven Hill
"Bernie Lubbers' passion for Bottled-in-Bond has saved an entire category of bourbon. They may not know it, but every bourbon lover owes Lubbers a dram for making bourbon cool again" — Fred Minnick, Whiskey writer/author
"After years of lecturing about the label, Bernie shares his methodology in print, giving readers empirical talking points to distinguish their favorite bottlings."–Jim Meehan, Author of  The PDT Cocktail Book
"…the world of bourbon has been crying out for a modern and accessible book to tell its story. Bernie has provided it."–Dominic Roskrow, international whiskey writer
"…reading Bourbon Whiskey is just like being with Bernie…without the hangover. You know, the book might be better than Bernie!"–Lew Bryson, drinks writer, http://lewbryson.blogspot.com/
"Just like a fine dram, drinkers will savor Bernie Lubbers' Bourbon Whiskey. It's a personal and very enjoyable guide to America's native spirit"— Noah Rothbaum, Author of  The Art of American Whiskey and Columnist, Daily Beast's
Barnesandnoble.com reviews of previous edition of Bourbon Whiskey Our Native Spirit
Rating: 5 out of 5 – If you enjoy bourbon and  history this is the book for you         Bourbonguy1
"I actually had the pleasure of meeting Bernie Lubbers and I can tell you he is extremely passionate about bourbon. Like so many Kentuckians bourbon runs through his veins, he bleeds for this industry (figuratively of course), but that passion resonates throughout this book. Like so many other books on bourbon he gives an excellent history of the industry, but he also works for the Jim Beam Distillery as a Whiskey Professor so he is able to offer some interesting perspectives and insights because he's there every day. His book also gives a timeline of important bourbon dates which helps centralize the sometimes confusing information in bourbon's history. The book also gives useful information on how to read a bourbon label, how to host a bourbon tasting, his favorite recipes, and a brief biography on himself and how he became a Whiskey Professor. Between our meeting and the book, Mr. Lubbers was able to provide me with a lot of useful information, I would not have been privy to without his help."
Rating: 5 out of 5!
Entertaining and More Than Worthwhile Read              Bourbon-Brothers
"With humor and flair Mr. Lubbers shares his love and knowledge of bourbon and Kentucky. He is able to explain the distilling and aging processes, as well as the history of our national spirit. Moreover, he proves why bourbon deserves equal respect along with the other genres of whisky from around the world. Read it cover to cover, but also use it as a reference book in the future. Our Native Spirit Indeed! Thanks Bernie."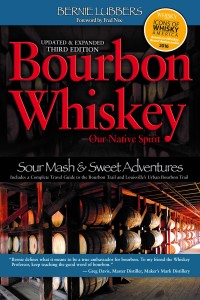 …
Foreward to "Bourbon Whiskey-Our Native Spirit" by Fred Noe
Bernie asked me to write a foreword for his new book, so I figured I should tell ya'll just who the hell I am. I'm Fred Noe seventh-generation distiller in the Beam family. My greatgrandfather was Jim Beam. He's the one most people know of since his name is on the bottle, and he's the one who started our distillery again after Prohibition in 1934. Pretty amazing for a guy to restart a whole distillery at 70 years old. But it was his great-grandfather, Jacob Beam, who started our family legacy by distilling and selling his first barrel of whiskey back in 1795. To think our family has stuck in this business for over 200 years is really amazing. I'm glad they did, because I don't know what I'd be doing otherwise. It's literally and figuratively in my blood.
My dad, Booker Noe (of Booker's Bourbon), taught me all about the business, and I think he was one of the very best. I remember traveling with him on trips where we would promote the small-batch bourbons that Pop created in the early 1990s, actually creating a new category. He taught me not only about distilling, but also how to be a guardian and an ambassador for the brands he created. You see, brands have lives and live on way longer than us human beings. When Dad passed away a few years back, it was just me serving as the ambassador for these brands, and the world was craving more bourbon, more stories, more everything.
I guess Bernie has a lot of passion for it since his dad and grandfather worked in a brewery in Louisville, so maybe something rubbed off on him, or poured off on him somewhere along the line. Bourbon is something you don't just learn overnight. It takes years—really it takes a life time—and even though there's a lot more for us all to learn, I'd say Bernie knows his shit pretty damn good.
I think Bernie's book brings some of that to life for you, and I think you'll also learn quite a bit about bourbon, even if you already know a lot about bourbon. Once you finish this book, you may want to come visit us here in Kentucky at our distillery. Come on down and come thirsty and come by and say hey to me and Bernie. If you keep drinking it, I'll keep making it. Here's lookin' at ya.