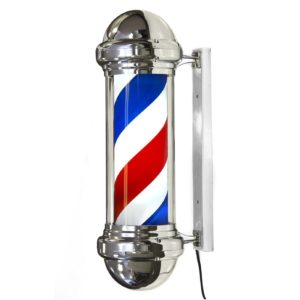 I like to get my hair cut on the road.  I enjoy going to little barber shops in major cities, or in smaller towns.  I just love meeting new people in them, and the characters that are so often the barbers.  It's easy to find a barber shop, all you have to do is look for the Barber Pole. That's the whole concept of what I call, Whiskey Barber Poles.
When it comes to wines, I like Pinot Noir's and Cabernet Sauvingnon. When it comes to beer, I like a Pilner, Ambers, and Pale Ales. That really helps me out when I'm looking at a wine or beer list.  You can do the same thing with whiskeys.  There are bourbons made with wheat, and there's only a handful of them, so if you like one of those, it sure helps out to know which ones those are.  So I have written down some Whiskey Barber Poles to help you out when you are given a huge bourbon and whiskey list to look over.
WL Weller – Makers – Rebel Yell >>> Larceny – Bernheim
Knob Creek – Russell's Reserve >>> Elijah Craig Small Batch
Woodford Reserve – Four Roses >>> Evan Williams 1783
Bulleit Rye – Overholt – Old Forester Rye >>> Rittenhouse Rye
Bulleit Bourbon >>> Evan Williams Bottled In Bond
Blanton's – Eagle Rare >>> Evan Wms Single Barrel (While You're Waiting For Your Blanton's Bourbon)
EH Taylor BIB – Old Forester 1897 >>> Heaven Hill 7 Year BIB
Pappy Van Winkle >>> Old Fitzgerald BIB Decanter Series
Balcones Corn Whiskey >>> Mellow Corn Whiskey BIB
Geo Stagg – Kentucky Owl >>> Elijah Craig Barrel Proof
Whistle Pig – High West >>>Pikesville – Elijah Craig Rye
Wild Turkey >>> Fighting Cock 
These are just MY Barber Poles, you might get your own, but either way it will help you in choosing a whiskey, or if you are a bartender or server, help you to lead your customers to an enjoyable experience.
Stay Bonded
Bernie