Ring In The New Year With Bourbon/Champagne Cocktails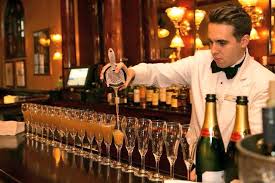 We are closing in to the end of 2014, and ringing in a new year. The Champagne will be flowing coast to coast with the cheap stuff, to whatever the bottle service choice of Las Vegas happens to be this year behind the red velvet ropes. 2014 was the year of Bourbon and American Whiskey, and it looks like that's not going to be slowing down anytime in the upcoming new year. It was the year where bourbon sales outpaced and out grew vodka! So the bourbon will be flowing from coast to coast too, and all around the world!
Some folks might be surprised to learn that bourbon and whiskey have been an ingredient in champagne cocktails for quite a while. So why not ring in the new year with some classic Bourbon/Champagne Cocktails at your party…or if you're at a nice cocktail bar, test your bartender's skills on these:
The French 75 Cocktail is named after a piece of French artillery (isn't that an oxymoron?) It's a true classic cocktail that I can imagine folks drinking at Harry's New York Bar in Paris, and one you can enjoy today at Arnaud's French 75 in New Orleans where the great Chris Hannah heads up the bar staff there.
French 75 Recipe
Ingredients
¾ oz bourbon whiskey
¾ oz simple syrup
½ oz fresh lemon juice
1 oz fresh orange juice
Champagne
Directions
Shake all ingredients (except champagne) with ice and strain in to an ice filled goblet. Top with champagne and serve.
The Seelbach Cocktail is from the famous Seelbach Hotel in Louisville, KY (Where Daisy Buchanon in The Great Gatsby gets married) is the:
The Seelbach Cocktail
Ingredients
4 oz Champagne
1 ½ oz of Bottled in Bond Bourbon
½ oz of Triple Sec
7 dashes of Peychaud Bitters
7 dashes of Angostura Bitters
Directions
Add the bourbon, triple sec, and bitters in to a shaker tin of ice. Stir and strain in to a champagne flute and top off with chilled champagne. Garnish with an orange twist.
There are some newer cocktails out there that you can also make. Bobby Flay came up with this Champagne Bourbon Cocktail on an episode of Grill It! With Bobby Flay
Ingredients
Bourbon – Bobby uses Woodford Reserve here, and also suggests similar light bourbon…(I suggest you can also use Evan Williams Single Barrel, Larceny, Four Roses Small Batch, or Bernheim Original Wheat Whiskey)
Champagne, Prosecco, or Sparkling Wine (chilled)
Vanilla Bean Syrup (Simple Syrup made with half of a vanilla bean (split, seeds scraped)
Directions
Add one shot of bourbon and 2 tablespoons of vanilla bean syrup to a chilled champagne flute. Fill to the top with chilled sparkling wine, and serve.
The Whiskey Cyder is a great cocktail with a slightly sweeter and seasonal kick to it using sparkling apple cider. Apple Jack and apple cider (spelled cyder in the 1700's) is an American classic, so celebrate it in this cocktail:
Whiskey Cyder
Ingredients
Bourbon – something with a little more age on it and higher proof like an Elijah Craig 12, Henry McKenna Single Barrel, Knob Creek, Rittenhouse Rye Bottled in Bond.
Martinelli's Sparking Apple Cider (chilled)
Directions
Pour a shot of bourbon in to a champagne flute, and top with the sparkling cider
So here's the biggest year that bourbon has ever had in history! And here's to an even BIGGER year in 2015 and discover as many Bottled in Bond whiskies that you can and don't forget to look down every once in a while for one of those hidden gems on the lower shelves. Remember to "feed the engine" by supporting distilleries flagship brands (like Evan Williams, Jim Beam, Old Forester). The only way a distillery can afford to extra age, and do special expressions is from sales of those flagship brands.
Stay Bonded! – Bernie Lubbers