Local Insider Knowledge Of Where to go in Louisville & On Which Nights
Local Insider Knowledge Of Where to go in
Louisville & On What Nights In Louisville – Bernie Lubbers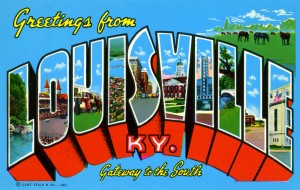 Whether you're visiting Louisville for Bourbon tours, or just visiting, this is a vibrant city with a lot of great things going on.  You just have to know where, when and what nights to go.  As a Louisvillian that prides myself on my city, this is where I go on these nights, and where I'd suggest anyone to go here in town on certain nights. 
The restaurants are good on all nights, but I just offer these suggestions for routing for drinks or entertainment after.  So enjoy:
 M o n d a y  
Have dinner at Silver Dollar – 1761 Frankfort Ave.  where they have a different Bottled in Bond Whiskey on feature each night with Bakersfield, CA music spinning on vinyl.  Their food is darn good (the chili is my favorite, and steak and eggs for weekend brunch).   They can accommodate pretty large groups there too.  Silver Dollar is a Certified Bonded Premises, which means they carry every bottled in bond available in the state.  They proudly display their certificate which is C.B.P. KY-1761
OR
Pat's Steak House – is truly Louisville. Just a few blocks down the road from Silver Dollar at 2437 Brownsboro Rd, Pats is Old School (they just started taking credit cards after all these years) Pat's is THE local steak house joint where Pat himself butchers the beef every day.  I call it "The Lance Crackers/Melba Toast served with salad" kind of place.  Great for large groups there;  as they have a couple private rooms.
OR
Buck's – 425 W. Ormsby – located in Old Louisville, loaded with one of the country's largest examples of Victorian homes.  Buck's has been around since Buck opened it in 1992.  The bar is always adorned with fresh cut white flowers to reflect a "moon garden" effect.  Mismatched fine china and silverware and food that's always spot on, and Rick Bartlett is at the piano nightly.
After dinner I suggest a quick Uber/Lyft to Nulu (which stands for "New Louisville"), if ya wanna have a quick pop at Taj (807 E. Market)  – stop in. It's a really cool small neighborhood venue with a good bourbon selection.  I suggest a Heaven Hill 6 yr 90 or BIB or a local/regional brew.
Then walk across the street to Decca at 812 E. Market for live jazz in the basement.  It really has the feel of being in another time and another place. Evan Williams BIB is on the rail there and you can get a Coors Banquet beer along with it as a "beer back".  Live jazz from some amazing musicians, which is not exaggerated.  Heaven Hill's own John Smart will back me up on this one since he knows and plays with these cats.  Sax, flugelhorn, standup bass, keyboards, drums…from 9-12.
T u e s d a y
Brooklyn & The Butcher – 148 E. Market St. in New Albany, IN.  It's just a short 15 minute uber/lyft from downtown so don't be scared to go across the bridge.  The food here is just awesome in this former historic hotel, and the cocktails are really good.  If there's just a couple of ya, sit in or at the bar, and enjoy this cool place at our Southern Indiana neighbors.  Good for larger groups during the week and they have a great downstairs Speakeasy type of venue.  The weekends here are packed, so plan accordingly.
Also Great over there is The Exchange at 118 W Main Street in New Albany, and Gospel Bird just down the street at 207 E Main Street.  Both have a good menu, and a good bourbon selection from Heaven Hill, and everyone, and good drinks.  So if you want to stop by after Brooklyn & The Butcher for a drink, or have dinner instead, it'll be a good time.
Red Yeti – 256 Spring St. Jeffersonville, IN – great casual dining, and good selection of whiskeys and close to the river and you get another view of Louisville from across the way.
SMOKE CIGARS?  Right in New Albany near both these accounts is Match Cigar Bar – 147 Main Street in New Albany, and Match Cigar Bar in Jeffersonville at 207 Spring St. (same block as Red Yeti)   – Jeff and his team are awesome and you can smoke em if ya got em, and if you don't git em, you can buy them there, and sip great whiskey along with them.
OR
Bourbon's Bistro – 2255 Frankfort Ave – Jason and John were ahead of the curve when they opened this Bourbon-Centric restaurant in 2005.  Jason appears in the Direct-TV documentary called Bourbontucky (as do I too).  He's got some "old whiskey" in there too, from the 1950's and 1960's that you just might be able to put in a whiskey flight and taste historic whiskeys.  Bourbons can accommodate larger groups too.   They are C.B.P. KY- 2255.
9PM  to midnight you have a couple options for music:
Baxter's 942 (which is also their address, 942 Baxter Ave) Kevin Cummings plays a wide array of music on his acoustic guitar.  He's a big bourbon fan, and loves talking bourbon between sets, and he does some work for us with Larceny as a musical ambassador and he loves Larceny to drink as well. He's starting to build the night there, so please do stop by especially if you have a good size group.
Kern's Korner – 2600 Bardstown Road – Bob and his brother owned the bar after their dad passed on, and their dad worked with my dad at the Falls City Brewing Company.  Known for their home made chili, they also make a darn good burger.  This is a small place, so if there's more than 3 of you, then this would not be the place to go eat.  It's a neighborhood bar, not a restaurant, but they have damn good chili, and other food.
Air Devils Inn – a former old one room school house at 2802 Taylorsville Rd.  It has been a bar since Prohibition ended, and make NO mistake, this is a dive bar.  Not a new bar that is trying to look like a dive bar…it's a dive bar.  It's not dangerous, but colorful characters will be there…along with my talented cousin Nate Thumas who sings and hosts Wide Open Mic Night every Tuesday from 9 til midnight.
Several pretty darn talented musicians who respect my cousin and remember Air Devils Inn fondly  (ADI as we call it) from gigs they've played there in the past, will stop on and perform a few songs. So you'll hear some pretty talented people in this joint, and you can also sip on some Old Fitz Bottled In Bond for around $5 there too. This place isn't for everybody, but it sure is for me when I wanna listen to and also get up and play and sing and get my fix on nostalgia and good open mic live music.  A 12-15 min uber/lyft from downtown.
W e d n e s d a y
 Bistro 1860 – 1765 Mellwood Ave – Chef Michael Crouch has created a wonderful menu here in an old farmhouse right at the foot of Mellwood Ave.  Michael describes his menu as French-American Fusion, but you get to order 3 portion sizes, so you can have several of the entrées and others and really sample a wide variety on the menu.  Nice bourbon, spirits, and wine selection.
Across the street is the Mellwood Bar (formally Rush Inn) and it's under new ownership, and they've kept the feel of the old joint, and we will see how it lands, but it's an old school bar here in this neighborhood.  Worth popping in.
OR just up the street is:
 Volare – 2300 Frankfort Ave.   Treat yourself to a great dinner, wine, bourbon, cocktails, at this upscale Italian restaurant…my sister from another mother, Robbie Bartlett sings there on Wednesdays and Thursday's, so if it's just 2 or 3 of you sit in or at the bar and it becomes a whole other special night with her smooth but smoky voice singing jazz and R&B with her guitarist Barry King.  Volare can accommodate larger groups.
Then you can pop across the street to Bourbons Bistro for a nightcap, or Fork & Barrel for a Bottled In Bond
OR: Butchertown Grocery – 1076 E. Washington St – www.butchertowngrocery.com – Opened to much acclaim, and not just locally, but nationally, this is a cool although small place, so get on Open Table, or call in for reservations at 502-742-8315.  For the fist half of the 1900's this was the location of Gunkel's Grocery, in this historic neighborhood, so thus the name.
OR LATER FOR LIVE MUSIC
Barrett Bar – Barrett Ave. has the bluegrass band, Relic playing there every Wednesday night from 9-12.  Great bluegrass and old timey, and traditional country music.  Barrett Bar is basically a pool hall, 6 pool tables, but they have some good bar food, and nice place to hang out and chill and have a drink with your friends, and on Wednesday with Relic there, you get to hear some awesome live music
T h u r s d a y
La Chasse  1359 Bardstown Rd. is fairly new but under the creativity behind the bar of co-owner Isaac, there's some great bourbon and other cocktails (Larceny is a favorite of his) and along with a great chef there, this is a great experience.   La Chasse is great for smaller groups, but can accommodate up to 8-12 comfortably with enough notice.
Bambi Bar – 2701 Bardstown Road – This is a true dive bar.  There's a famous local pub crawl named after it called "The Bambi Walk".  The Bambi Burgers are legendary, but it's still kind of a little secret.  I like the #3 with onion rings, and their wings are pretty damned spot on.  If you want a dive bar true Louisville experience, Bambi is your answer!
Shenanigan's at 1611 Norris Place (at Norris and Deer Park) is a local corner neighborhood bar/pub in the Deer Park neighborhood of the Highlands.  Eddie and Dee own the joint, and Rick is the manager, and lives next door. They have good food, and it's a great little bar to meet your friends, or make new ones, and have a bourbon/beer/drink, and watch a game, or just shoot the shit.
Left Field Lounge – 2282 Bardstown Rd. if you want to watch a ballgame at a local joint, Eddie's other bar is Left Field Lounge where you can get some Heaven Hill 6 year BIB and several other bourbons at a good price, and it's my favorite place to watch a football or basketball game.
Nachbar in Germantown (969 Charles Street) also has live music in this neighborhood corner bar in Schnitzelberg on Thursdays.  Squeeze-Bot and other jazz groups play here.
The Back Door – Mid City Mall – 1250 Bardstown Road
When you're done pop into a neighborhood joint that's been a local favorite of mine and others for over 30 years; The Back Door in the back of Mid City Mall.  They have no jukebox or live music, this is where ya go to actually talk to friends and recount the day/week, and sip on some good bourbon poured generously at a great price. Don't ask for a double, you're getting one already. If you want to eat dinner here, hell they truly do have the best bar food in town!  They have a pretty big menu too so lots of great food here.  The Back Door is the only bar I know of that's closed on New Year's Eve because it's amateur night, and they don't wanna bother with it!  Now how about that?
Big Bar – 1205 Bardstown Road – the name of the bar is exactly just how small the place really is…the first gay bar to open in the Highlands, and a few others followed (Chill Bar and NoWhere/SomeWhere) , so this block became very fun a few Derby's ago when Kevin opened Big Bar's garage door, and he's been doing big business ever since.  Good bourbon selection, and always a featured and damn delish frozen cocktail.
F r i d a y/S a t u r d a y
Game – 2295 Lexington Road, is awesome for meat lovers.  Kangaroo and antelope are on the menu along with other exotic game and you can try the in a meat ball, and then order a burger from the one you liked the  best.  Pretty cool, and tasty with beer and wine selections – no whiskey.
Butchertown Grocery   (1076 E. Washington St.) for a great dinner, but make sure to make reservations in plenty of time, because of their popularity, and also the place isn't all that big, but the food is awesome.  Then after dinner just go outside and upstairs for some great live music and cocktails in a very cool setting.   This is not a good venue for parties over 6 people.
Feel adventurous? Pop across the street to the nightclub Play (1101 E. Washington) is a Drag bar and Dance bar and is one of the biggest and cool gay venues in the country regularly featuring performers from the TV Show "Ru Paul's Drag Race"…and hey why not?  You are outta town!!! They have a decent bourbon selection too…it's Louisville, everyone drinks bourbon here y'all !!!
Casual Dinner any night –
Checks Café – 1101 E Burnett
This is a Louisville neighborhood dive bar tradition since 1944.   It is located in the heart of Louisville's Germantown neighborhood.  It is across the street from the Catholic Church of St. Elizabeth of Hungary, so the regulars call the place, "Saint Checks".  Known for their home made chili, this place has great home made food, and inexpensive drinks and brews and friendly regular customers.
Flanagan's Ale House – 934 Baxter Ave – nice bar, good beer list, and good food in the Highlands.  Flanagan's has a good little brunch on Sunday's too, and me and my buds will end up here sometimes when we are not at Shenanigan's after playing golf Sunday mornings.
S u n d a y
Louisville's favorite restaurant is Jack Fry's. (1007 Bardstown Rd).  See hundreds of cool old black & white pictures in the wall from memories from Churchill Downs and other local scenes.  The food is spot on, it ain't cheap, but it ain't too bad either, and it's the pure Louisville experience you came here for.  And get reservations here…they fill up fast even on Sunday.  It is Louisville's favorite local restaurant, but because of their size, and popularity, it's going to be hard if not impossible for parties over 6 people.
Pop in to Holy Grale for a craft beer after at this former church…a great way to finish off a Sunday night for either the beginning, or end of your visit to Bourbon Country.  There is no whiskey here, but  many beers finished off in bourbon barrels, and sometimes ya need some suds to have after drinking all this bourbon.
Another alternative on Sunday night (or any night) are Nachbar 969 Charles St. and The Pearl  1151 Goss Ave,  just a short lyft/uber away in the Schnitzelberg/Germantown area both are cool chill joints to sit and talk about your plans or experiences and really feel the local vibe of the city/neighborhood.  Nachbar also has some cool live music every now and again with Squeeze-Bot, an awesome jazzy instrumental band and others.
Saturday and Sunday Brunch
Le Moo –(2300 Lexington Ave)  brunch menu, and you can get most any Heaven Hill whiskey, and everyone else's too here.  Le Moo is a great high end steak house too (le moo, get it?) and would be awesome for dinner any night as well.   Le Moo can do larger groups, and on weekend nights they have a live jazz venue in the back which is quite large.
Silver Dollar – brunch menu – BIG bottled in bond fans like me.  They are C.B.P. KY 1761 (Certified Bonded Premises that carries every bottled in bond available in the state)
Ramsis –(1293 Bardstown Rd)  they have the buffet style brunch that is the best in town.  Vegan/Vegetarian options for biscuits and gravy too! And a very nice bourbon selection.
A cool place for dinner any night:
Vietnam Kitchen – Iroquois Shopping Center 5339 Mitscher Ave – This is the real deal Vietnamese.  The Americana Apartments is (was) close by, and there were many Vietnamese refugees and immigrants that lived there over the last few decades.  So this is as authentic Vietnamese as it gets.  It's really not located anywhere near anything else bourbon wise, but you just have to check it out if you like this type of cuisine.
Hilltop Tavern -1800 Frankfort Ave (across from Silver Dollar) – great neighborhood bar – casual, comfort food like house smoked pulled pork, chicken, brisket, turkey, and wings.  Good whiskey and beer selection, and kitchen is open til 1am.
Breakfast / Lunch During The Week
Cottage Inn – 570 Eastern Parkway – one of the oldest places to eat out in Louisville since 1929!  Cottage Inn is in the Germantown area of town, and opens every at 10:45am til 9pm (Closed Sunday). Since 2008 Zuki and Zlatko Kelso have owned the place and bring a slightly different twist from their Bosnian background, and of course the comfort food that had made this a staple in this nieghborhood for so long.   After dinner walk across the street to the Dairy Kastle for some ice cream.  This will take you back to the 1950's if you do both Cottage Inn and Dairy Kastle…nostalgic indeed!
Dish on Market  –  434 W. Market – Marshall and Anderson opened this place and they are on the Urban Bourbon Trail. Especially handy for anyone staying right downtown so you can walk to it from most of the downtown hotels.
Grale Haus –  – 1001 Bardstown Road Open 8am – 4pm every day. 502-454-7075 www.gralehaus.com  Behind Holy Grale and a part of the Bed and Breakfast there (so keep that in mind for accommodations).  They call it a "Bed & Beverage", which is a great descriptor.  It's a 5 minute uber/lyft fom downtown.
Wagner's Pharmacy –  (3113 S. Fourth St.) This is truly old school.  The actual pharmacy where horse trainers go for liniment and other needs for thoroughbred race horse industry at Churchill Downs across the street.  This is a true experience, and the food is home cooked and authentic, and it reminds me of being in the country, but in the city.  A truly cool experience .
Morris' Deli – is located inside Karem-Deeb Liquors at 2228 Taylorsville Road.  It's not a large liquor store, but you'll find a decent bourbon selection, and some Kentucky only items in there too.  But the country ham sandwiches and other deli selections are awesome, and you just don't see this much anymore around the country.  There's only seating for like 4 people, so it's mostly sandwiches "to-go" so before you hit the road to visit the distilleries…stock up for snacks and sammie's at Morris' Deli.
Feast On Market – (909 E. Market) In Nulu just down from Taj and Decca.  No Breakfast, but great for a quick and good Lunch and dinner.  Good BBQ and always have a Bourbon slushee on tap, and a good bourbon selection.
Red Hog Artisan Meat – 2622 Frankfort Ave. – redhogartisanmeat.com –  Red Hog is Louisville's first whole animal butcher shop featuring meats from local farms.  They are committed to sustainable, humane, and ethical farming practices. Available as fresh cuts, cooked or cured, both in the butcher shop and on the cafe menu.  Cafe is only open Tuesday through Saturday.  Red Hogs exposed kitchen features meats cooked in a wood burning pizza oven, and large wood fired grill and hearth.  Check for times on website.
Louisville Cocktail Bars 
Meta – owned and operated by Jeremy Johnson; Meta opened up in the old Schuhmann's Click Clinic at 425 W. Chestnut Street.  They put down an all penny covered floor, and it is Louisville's first Cocktail only bar. He's now just started to offer a very limited menu of just snacky type items.  My favorite cocktail there is the High Pant made with Old Fitzgerald Bottled In Bond.
Mr. Lee's – 933 Goss Ave – In the Germantown neighborhood near Nachbar and The Pearl, Mr. Lee's just opened not long ago, and it's a cool modern take on a classic cocktail bar from days gone by.  They did a great job of making it seem like you're an extra in Mad Men.
Red Herring – 1757 Frankfort Ave (Next to Silver Dollar) located in the old Hilltop Theater.  They did a cool renovation and just opened up right before Derby this year.  They are concentrating on having great classic cocktails and most of them on their list are $9 or less.
Great New Accounts to try out:
Fork & Barrel – 2244 Frankfort Ave.  www.bethefork.com (this is right across from Bourbon's Bistro, and Volare, and near Silver Dollar) Chef/owner Geoffrey Heyde (formally the Exec Chef at Village Anchor) has opened his own place, and it's wonderful.  He describes his menu as upscale American cuisine with a focus on local ingredients and craft cocktails.  Fork & Barrel is a Certified Bonded Premises which means Heaven Hill and myself has certified that they carry all Bottled In Bond spirits available in the state of Kentucky.