Bourbon Whiskey & Bluegrass Music – Historical Link
Bourbon Whiskey & Bluegrass Music – Historical Link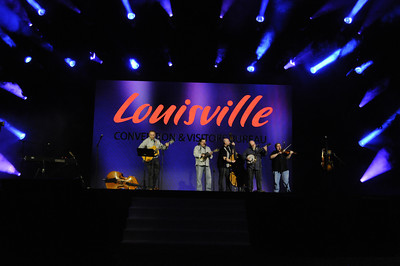 This is me and our band, The Bourbon & Bluegrass Boys with Hickory Vaught, Chris Douglas, Steve Cooley, and Michael Cleveland
There are several things that folks associate with Kentucky, and Bourbon and Bluegrass Music are certainly at the head of the list along with the Kentucky Derby! I've been a fan or Bluegrass Music since I first started playing guitar back in college and listened to The Nitty Gritty Dirt Band albums which highlighted all the great Bluegrass legends that got it all started.
Bourbon and Bluegrass have something in common more than being from Kentucky. After Prohibition was struck down by the 21st Amendment of the U.S. Constitution on December 5, 1934, it took distilleries several months to retool their facilities and start producing whiskey. They first had to decide in which category of whiskey to compete in. Those two categories that had been created by the Taft Decision of 1909 which are; "Blended Whiskey", and "Straight Whiskey". With Blended whiskey, you can distill to higher proofs, use any type of oak, and you may add colors, flavors, and sugars. Seagrams was the dominant player for Blended Whiskies here in the U.S. with VO Canadian, Seagrams 5 Blend, Seagrams 7 Blend, and then there were other companies brands like Kessler, Black Velvet, Calvert, Fleishmans, and Four Roses Blended; not to mention other giants like Canadian Club, Johnny Walker, Dewer's, and Cutty Sark.
So when distilleries like Heaven Hill, Jim Beam, and others decided to get back to the business of distilling, they continued distilling "straight whiskey" which they not only had more pride in, but they could compete in this much smaller category of Whiskey. "Straight Whiskey" must be aged in the appropriate type of charred barrels for a minimum of 2 years, and after aging, nothing but water can be added to it to get it down to the bottling strength. Bottled in Bond whiskey had even more restrictions on it by a 4 year minimum, bottled at exactly 100 proof, distilled in one season, and distilled by only 1 distillery. Bottled in Bond whiskies were considered "the good stuff" and that was what they were all shooting for when they started back distilling.
So the earliest anyone distilled and barreled anything then was 1935. Two years later in 1937 Heaven Hill came out with a product called "Bourbon Falls" which was a two year old Straight Bourbon. Two years after that, they introduced Old Heaven Hill Bottled In Bond four year old 100 proof in 1939. The coveted Bottled In Bond was finally out, and then now here's the tie in with Bluegrass Music.
It was in October of 1939 when a talented mandolin player from Rosine, Kentucky named Bill Monroe auditioned for, and received a regular spot to perform on the Grand Ole Opry on WSM Radio in Nashville. Before that, the mandolin was a background instrument, but Monroe brought it out to the front and had a hard driving sound that was different than the old timey country music of the day. He used what he called the "high lonesome" sound with three and four part harmonies with his energetic version of Jimmy Rodgers "Mule Skinner Blues" captivated the Grand Ole Opry crowd. He also highlighted the high level of talent and proficiency with the band members taking musical solo's they called "breaks" on guitars, fiddle, banjo, which also electrified audiences.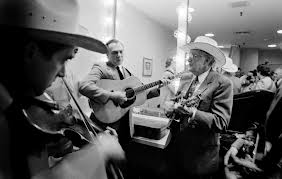 The name of his band was "The Bluegrass Boys" named after his home state of Kentucky. A watershed moment for his band, and the new genre called Bluegrass was in 1945 when a talented banjo player from North Carolina named Earl Scruggs joined Bill Monroe as a Bluegrass Boy. Scruggs played the banjo with a new and equally hard driving three finger picking style that folks had never seen or heard before. Soon after, guitarist/singer from Tennessee named Lester Flatt joined the band. Bluegrass started to take off as its own genre of music, and that means you need more than one band, and so Flatt and Scruggs started their own band in 1948. Bill Monroe and The Bluegrass Boys became the launching pad for other bands that would get their start with him, and move on with bands or their own helping grow the movement. Monroe's biggest hit by far is Blue Moon Of Kentucky, which even Elvis Presley recorded!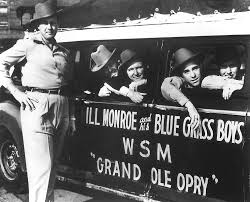 Folks in Kentucky, Tennessee, Indiana, North Carolina, and other states started hosting Bluegrass Festivals where folks could not only see and hear the best, but folks would bring their own instruments and jam along with some of those performers who were honing their skills and impromptu groups of three, four, or more would spring up all across the grounds learning from others the art of bluegrass picking and singing harmonies. Those grass roots spontaneous groups formed in those festivals would go on for hours and hours in to the early mornings, and of course, bourbon whiskey and even some moonshine some of those same folks made at home was consumed all during those festivals. Most of the time folks travel from pretty good distances and camping is another element, so sitting around the camp fire picking bluegrass, singing, trading stories and good bourbon and moonshine has all kind of intertwined together!
My biggest influences in Bluegrass over the years have been of course Bill Monroe, Flatt & Scruggs, Doc Watson, John Hartford, Nitty Gritty Dirt Band, Bela Fleck, Tony Rice, Peter Rowan, Sam Bush, Ricky Skaggs, Merle Travis, and although he's not a Bluegrasser, I have to include John Prine. Today I'm proud to say that I am becoming (not there yet but becoming) a "Bluegrasser" myself as pickers refer to each other. My good friend and talented mandolin player, Hickory Vaught, and I have written a show that we perform for folks that visit Kentucky and the Bourbon Trail. We have performed the show for audiences of 6 people, all the way up to 1,800 folks in Nashville, TN at the Music City Center.
If you ever visit Louisville, KY and the Bourbon Trail here in Kentucky (and you should visit) you can hear us pickin' at our Bourbon and Bluegrass Jam on the first Sunday of the month at Haymarket Whiskey Bar there on Market Street right there at Preston Street. Of course along with the music, we'll be sippin' on some great Bottled in Bond whiskies and trading stories and experiences with each other. If you play an instrument and want to join in Feel free to bring it and jam along with us. Hickory and I have a few songs on YouTube. Just search for Bernie Lubbers and Hickory Vaught and you'll find them there.
Stay Bonded – Bernie Lubbers May/2014